Block of Syrmorite

Transparency
No
Luminance
No
Blast Resistance
30.0
Tool
Any Pickaxe
Renewable
No
Stackable
Yes (64)
Flammable
No
Compostable
No
ID
syrmorite_block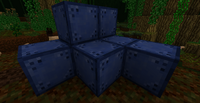 Blocks of Syrmorite are craftable storage blocks for Syrmorite Ingots.
Blocks of Syrmorite can be found as treasure in a secret room in the Wight Fortress...
Beta 2.0.0: Renamed to Block of Syrmorite.
Beta 1.0.0: Introduced as Syrmorite Block.