Block of Octine

Transparency
No
Luminance
Yes
Blast Resistance
30.0
Tool
Any Pickaxe
Renewable
No
Stackable
Yes (64)
Flammable
No
Compostable
No
ID
octine_block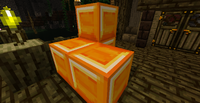 Blocks of Octine are craftable storage blocks for Octine Ingots. In addition to being crafted, they can also be found as part of Idol Head Statues.
Igniting
Edit
Placed Moss, Cave Moss, and Thorns that are adjacent to or on a Block of Octine will catch fire instantly.
Blocks of Octine can be found as treasure in a secret room in the Wight Fortress...
Release 3.3.0: Now gives off light and burns certain plants.
Beta 2.0.0: Renamed to Block of Octine.
Beta 1.0.0: Introduced as Octine Block.