Bladderwort

Transparency
Yes
Luminance
No
Blast Resistance
0.0 (Flower)
500.0 (Stalk)
Tool
None
Renewable
No
Stackable
Yes (64)
Flammable
No
Compostable
Yes
ID
bladderwort_flower
bladderwort_stalk
items_plant_drop/40
items_plant_drop/39
items_crushed/52
items_crushed/53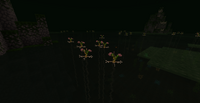 Bladderworts are water plants that generate in Deep Waters and Coarse Islands biomes. They consist of a Bladderwort Flower that sticks out above the water, connected to the seafloor by Bladderwort Stalks.
Collection
Edit
Bladderwort Flowers and Stalks must be harvested individually with Syrmorite Shears to be collected. When harvested with a Sickle instead, the Flower drops a Bladderwort Flower (item) and the Stalk drops a Bladderwort Stalk (item), both of which can then be ground into Ground Bladderwort Flower and Ground Bladderwort Stalk, respectively.
Bladderwort Flowers can be placed decoratively inside of Mud Brick Flower Pots with a right-click. They can then be taken out by right-clicking the pot again. Bladderwort Stalks cannot be placed inside of pots.
Compostability
Edit
Bladderwort Flowers and Stalks have a compost process time of 6 minutes and 40 seconds and a compost amount of 5. Visit the Compost page for more information regarding the composting mechanic.
Alpha 3.2.0: Added Aspects to associated items.
Beta 1.0.1:

Renamed to Bladderwort, and textures changed appropriately.
Now has its own plant and ground items, with two variations for the flower and stalk.

Beta 1.0.0: Introduced as Water Flower.