Betweenstone Bricks Mirage

Transparency
No
Luminance
No
Blast Resistance
30.0
Tool
None
Renewable
No
Stackable
Yes (64)
Flammable
No
Compostable
No
ID
betweenstone
_bricks_mirage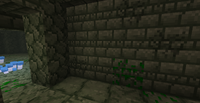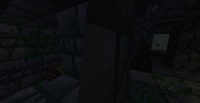 Betweenstone Bricks Mirages are special blocks that are found in a very specific bottom back wall in the Wight Fortress.
Betweenstone Bricks Mirage appear to be exactly the same as regular Betweenstone Bricks. However, they can be passed through by any player or mob as if they were air.
In the Wight Fortress, Betweenstone Bricks Mirages are used to conceal a small hidden room that contains a double Weedwood Chest with loot. This room is located in the bottom floor of the fortress, in the part of the outer wall that is made up of Betweenstone Bricks instead of Betweenstone. There are two 2-by-1 "doorways" of mirage blocks in this wall that must be entered to access the room.