Animator

Transparency
No
Luminance
No
Blast Resistance
Tool
Any Pickaxe
Renewable
No
Stackable
Yes (64)
Flammable
No
Compostable
No
ID
Animator is a utility block that is very useful for obtaining particular entities and objects through an 'animation' process.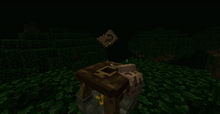 3 Betweenstone + 3 Weedwood Planks + 2 Weedwood Sticks + 1 Wight's Heart = 1 Animator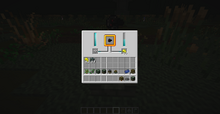 The Animator is capable of "animating" certain items. To do this, place the item you want to animate in the middle slot, a Life Crystal in the left slot, and any amount of Sulfur in the right slot. The model of the item will be rendered floating on top of the Animator, and the Life Crystal will rise and surround the item. After a considerable amount of time, the process will complete and the resulting new item or entity will float and rotate to face you. When right-clicked the item will be collected/the entity will be spawned.
With each "animation" within the Animator, a varying amount of Sulfur will be consumed and the Life Crystal used will lose a varying amount of its charge. Keep in mind that when it reaches 0%, or if there is not enough charge, the Life Crystal can no longer be used in animating.
You can add your own Animator GUI recipes in the recipes.json in the config.
Animator Recipes
Edit
Animator: